Agama politik atau bukan? Sebenarnya bukanlah suatu pertanyaan yang patut dijawab. Sebab, akhirnya hanya berujung pada kebingungan. Ahli Tafsir diperlukan untuk menjelaskannya tafsiran agar lebih mudah dicerna masyarakat awam. Namun, masa-masa panas di tahun politik ini, ada baiknya menerawang lebih jauh ke dalam.
Menista agama bukan hanya Ahok (walaupun meragukan penistaannya) dan Sukmawati. Sukmawati bukan satu-satunya yang menista agama beralaskan kesenian dan sastra. Banyak Stand up comedian terdahulu yang melakukannya, namun adem ayem aja tuh.
Kultur di Indonesia jelas-jelas menolak penistaan, sedangkan kultur barat sangat jelas berbeda. Mengapa demikian? Tulisan ini akan disebutkan beberapa atau setidaknya 3 macam komik fenomenal menista agama sebagai perbandingan.
Petualangan Tuhan (Adventures of God)
Komik yang ditayangkan oleh Webtoon ini merupakan komik terlaris dan berada di urutan pertama. Skornya mencapai 9.48. Bisa dikatakan kalau komik ini sudah hampir sempurna. Tapi mengapa? Padahal komik ini tentang penistaan agama.
Komik ini menggambarkan kultur tuhan-tuhan semitik. Dari tuhan Yahweh (Yahudi) sampai tuhan Yesus (kristen). Jika komik ini ada diramu dalam bahasa Indonesia, pembuatnya bakalan dikatakan menistakan agama. Yahweh bertindak sebagai ayah dari segala tuhan semitik. Karakternya pemabuk dan suka memerintah.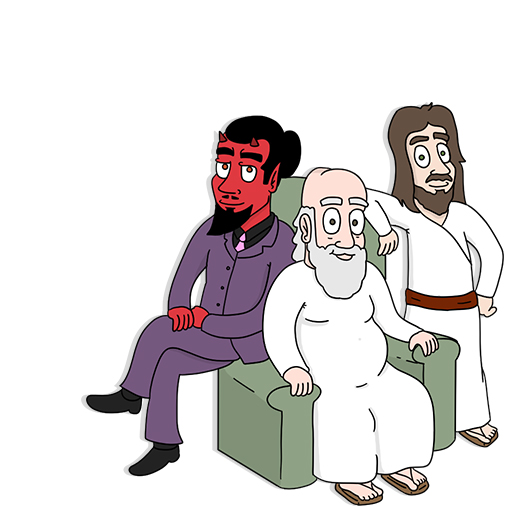 Di dalam suatu komik, ada dua suku primitif yang lagi bertengkar dan juga, mengatasnamakan tuhan. Kedua kubu lagi berperang sedangkan di komik tersebut digambarkan tuhan lagi nonton sambil makan popcorn.
Kedua, desert, atau gurun. Diceritakan kalau Yahweh dan Yesus lagi nobar (nonton bareng) atas saran Gabe atau malaikat Jibril. Film yang diputar berjudul 'desert'. Cerita film tersebut menggambarkan bumi mengalami kekeringan, dan manusia harus berjuang mati-matian agar tetap hidup. Sampai-sampai ada seorang yang berkata kepada ceweknya, "sayang, seandainya kita orang kaya.". Tiba-tiba ada seorang yang menodongkan senjata untuk klarifikasi nama cewek tersebut. Ternyata, dia seorang yang kaya raya. Akhirnya, sang penondong itu mengajak dia pergi keluar angkasa, terbang meninggalkan bumi. Yesus-pun bertanya pada ayahnya, Yahweh, dengan kebingungan, "mengapa hal tersebut terjadi?". Setelah itu, yesus pergi ke bar menghabiskan waktunya meminum dan berpikir keras, "MENGAPA?".
Terakhir, sangat fenomenal menurut penulis dari adventures of god ini adalah loophole. Loophole dalam bahasa Indonesia artinya celah. Dikisahkan seorang yang telah membunuh ribuan orang bisa masuk surga. Malaikat Gabe dan para tuhan kebingungan. Kok bisa? Bisa kok asal tobat. Ketika orang itu sampai di surga, ketemu teman-teman yang dia bunuh dulunya. Dengan bangga dia berkata: "woi, aku sudah tobat, eh, itu kapak milikku ya?".
The Preacher
Mungkin ada banyak orang yang tak menyukai baca komik. Alasannya sangat beragam. Yang jelasnya the preacher ini sudah diaptasikan ke dalam serial drama. The preacher merupakan komik yang berasal dari semesta DC (sahabat Batman, Suparman, Wonder Woman, Arruuw, dkk).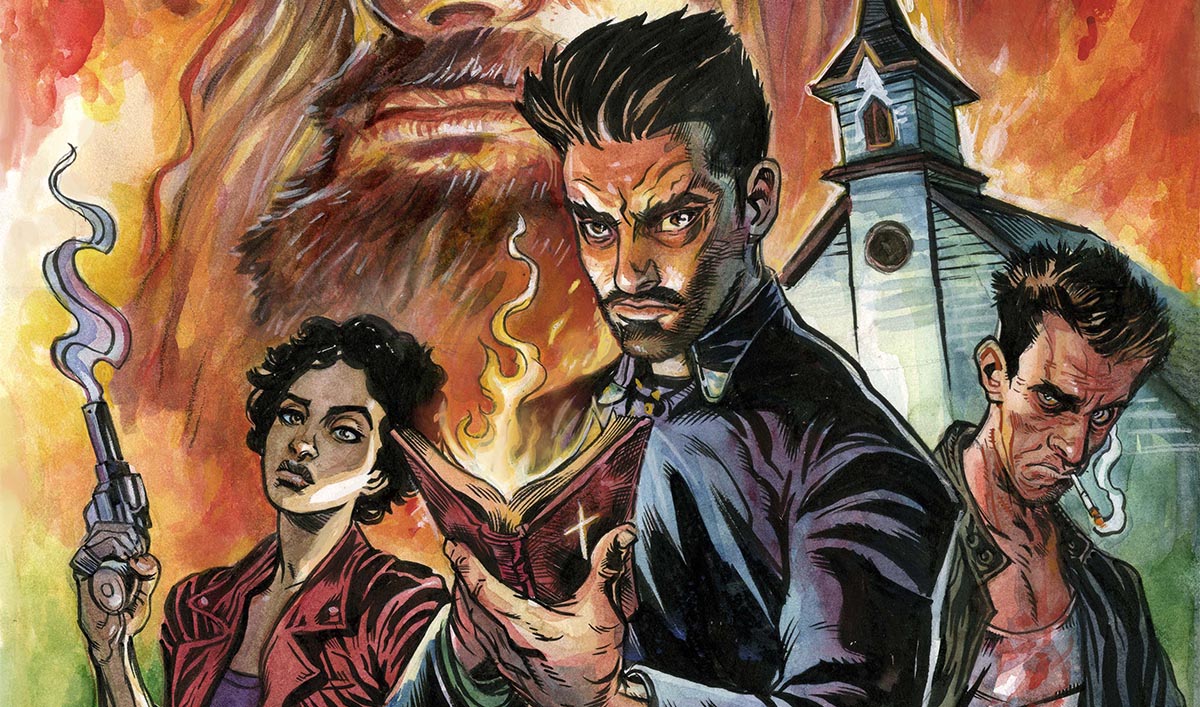 Ceritanya agak sedikit unik dan mengusik hati. Namun, tetap menista agama. Malaikat dan setan melakukan hubungan intim, dan menghasilkan anak yang merasuki seorang pendeta (the preacher). Tidak kebayang kalau setan itu melakukan hubungan intim dengan malaikat. Padahal kan diketahui kalau setan tak akan pernah diterima oleh kaum tuhan.
Si pendeta tentunya mencari tahu mengapa tuhan melakukan hal seperti itu. Di season pertama, pendeta dicari, dan lucunya lagi tuhan bisa melakukan VC (video call). Di season dua lebih sadis lagi, tuhan hilang di surga dan berkelana di bumi, dan merasakan bagaimana kehidupan prostitusi. Maksudnya apa nih?
Shadbase
Satu hal tentang Shadbase, penulisnya jelas berpikir 'gila kronik'. Ada satu komik yang mengambarkan dimana perempuan berhijab dari beragam agama sangat seksi dan hot. Shadbase sangat indah dalam mengambarkan lekukan perempuan, namun ini jelas-jelas menista agama. Tapi apalah daya, akhirnya kedua perempuan itu berubah menjadi laki-laki yang memiliki dua terong berurat. Apakah ini bukan penistaan?
Kultur Indonesia, sudah jelas-jelas komik-komik diatas akan dianggap menistakan agama dan merupakan hal yang tidak etis. Sedangkan dalam kultur barat, kebebasan itu dipandang tinggi. Namun, sampai mana kebebasan tersebut bisa ditolerir? Apakah harus sampai gila seperti Shadbase? Atau justru harus baperan seperti kaum beragama di Indonesia? Eh, iya kalau pilihan komik pembaca, apa ya?